Boost Your Sales with Shopify Automation
Regular price
$499.00 USD
Regular price
$999.00 USD
Sale price
$499.00 USD
Unit price
per
Sale
Sold out
Need something different?
Create your own task
Share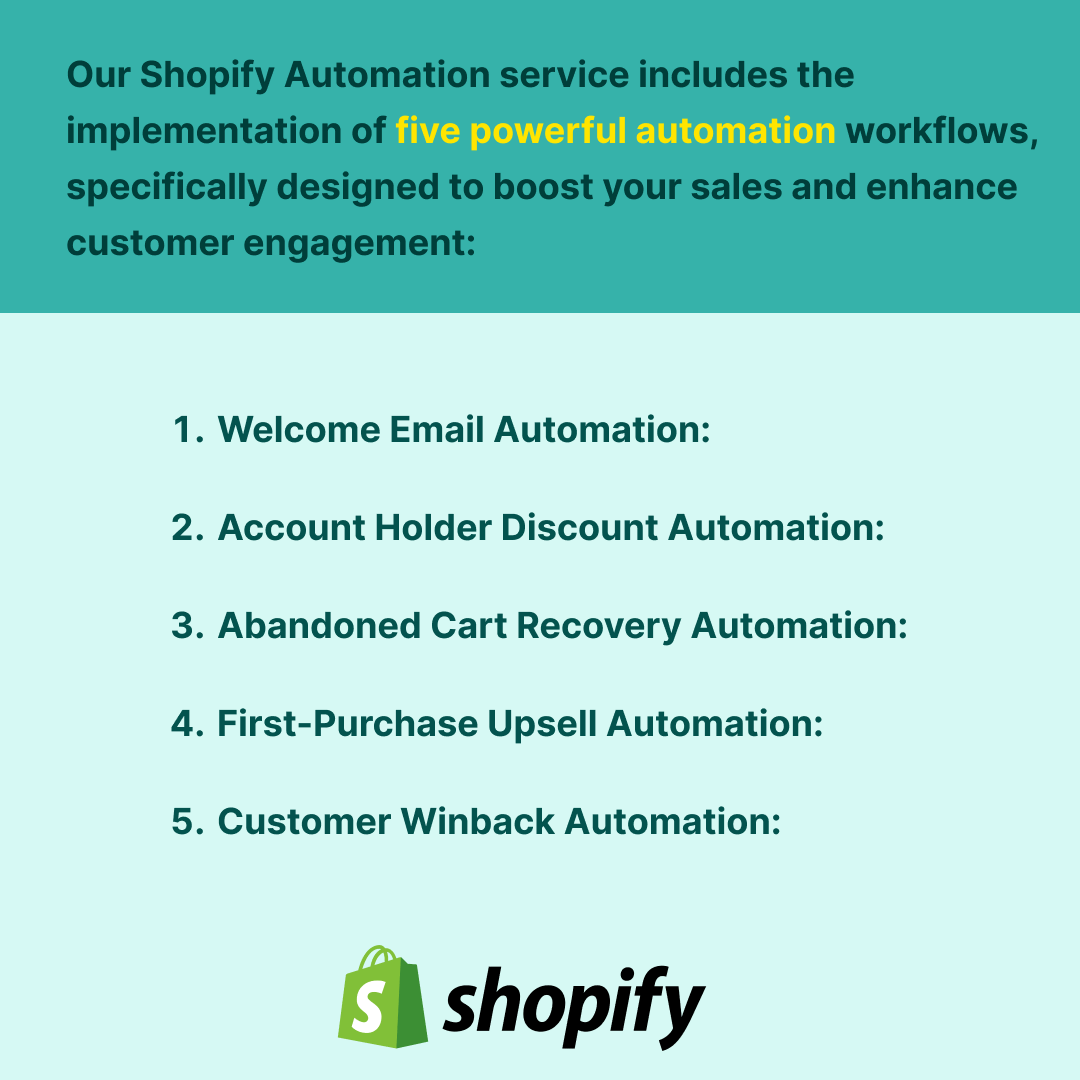 Unlock the full potential of your Shopify store and watch your sales soar with our cutting-edge Shopify Automation service. With our expert assistance, you can harness the power of automation to engage your customers, drive conversions, and increase revenue—all without any manual efforts.
For a limited time, we're offering an exclusive 50% discount on our Shopify Automation service. The regular price is $999, but you can now avail it for just $499!
Our Shopify Automation service includes the implementation of five powerful automation workflows, specifically designed to boost your sales and enhance customer engagement. But that's not all!

Welcome Email Automation: Capture your customers' attention from the moment they subscribe to your newsletter or create an account on your website. We'll set up a personalized welcome email that introduces your brand, highlights special offerings, and establishes a strong connection right from the start.

Account Holder Discount Automation: Turn potential customers into loyal buyers. Our automation system will automatically send a 20% discount code to customers who have created an account but haven't made a purchase within a specific timeframe. This enticing offer will encourage them to complete their first purchase and become valuable customers.

Abandoned Cart Recovery Automation: Reclaim lost sales effortlessly. When a customer leaves items in their cart without completing the purchase, our automation system will spring into action. We'll send targeted reminder emails with exclusive discount codes to incentivize them to finalize their purchase and recover those potentially lost sales.

First-Purchase Upsell Automation: Maximize your revenue per customer. After a successful first purchase, our automation will trigger personalized upsell emails, offering complementary products or upgrades. This effective strategy will increase the average order value and drive additional sales.

Customer Winback Automation: Reconnect with previous customers by offering them a one-time discount. Our automation system will automatically send re-engagement emails to customers who haven't made a purchase in a while. By providing them with a compelling offer, you can reignite their interest and bring them back to your store.
We understand that each business is unique, and you may have specific automation needs beyond the five workflows we offer. That's why we're excited to announce that we also provide custom automation solutions tailored to your business requirements.
If you have additional automation ideas or specific workflows in mind, our team of Shopify experts can work with you to develop and implement custom automation strategies. Whether it's personalized post-purchase follow-ups, targeted re-engagement campaigns, or any other automation idea you have, we've got you covered.
By availing our Shopify Automation service, you not only benefit from our pre-built workflows but also gain access to our expertise in creating customized automation solutions that align perfectly with your business goals.
Take advantage of this limited-time offer to revolutionize your Shopify store and drive unparalleled success. Get started with Boost Your Sales with Shopify Automation today!
Note: This is a limited-time offer, and the 50% discount is applicable only on the discounted price of $499. Act fast to secure your spot and take advantage of this incredible deal.
Remember, automation is the key to unlocking exponential growth for your business. Don't miss out on this opportunity to revolutionize your Shopify store and drive unparalleled success. Contact us today to discuss your custom automation solutions!
*Custom automation solutions are subject to additional pricing based on the complexity and scope of the project. Our team will provide a tailored quote based on your specific requirements.
Note: You can connect with us for instant answers to your queries through the live chat support about the service offered on the page.